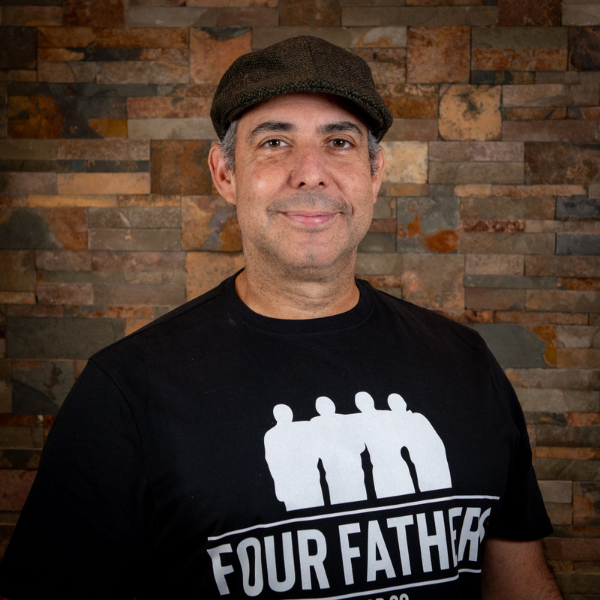 Dave
Growing up, a big part of my Italian culture involved food. Living in "Little Italy" in Toronto, my grandfather had the best garden for growing fresh vegetables. I clearly remember those Sunday lunches at Nonno's as if it were yesterday. These are the memories that make me want to continue the traditions of my parents and grandparents.
Food is a big part of my life that's why I jumped on the opportunity to be part of FOUR FATHERS FOOD CO.
Wine or Beer:
I would have to choose a deep flavoured red wine as my go to beverage; especially with fresh homemade pasta. Now I am hungry!
Most Memorable Meal:
It would have to be homemade pasta enjoyed at our Sunday lunches. I would help my mother in the kitchen rolling out the dough and winding that hand-crank pasta maker like it was an engine. The effort was worth it. The aroma of homemade sauce simmering ALL morning long would fill the house. I couldn't wait to twirl that fork into my big plate of pasta for lunch.
My Favourite Hot Sauce:
The FOUR FATHERS Habanero hot sauce is my favourite, as I can add it to my pasta sauce to add a slight heat with a ton of flavours.
Dave's Choice
_______________________
Shipping is calculated at checkout

HABANERO HOT SAUCE: INTENSE, PEPPERY, BOLD

A vibrant, coloured sauce with a slightly fruity flavour and intense heat. Not for the faint of heart. 
Kick up your next cheese board, top your next burger or add some extra heat to your favorite Caesar recipe.

(Scoville Heat Units: 100,000 – 350,000 SHU)
INGREDIENTS
Habanero/Scotch Bonnet Peppers, Vinegar, Vegetable Oil, Sweet Peppers, Carrot, Onion, Salt, Spices, Garlic, Lemon Juice, Xanthan Gum