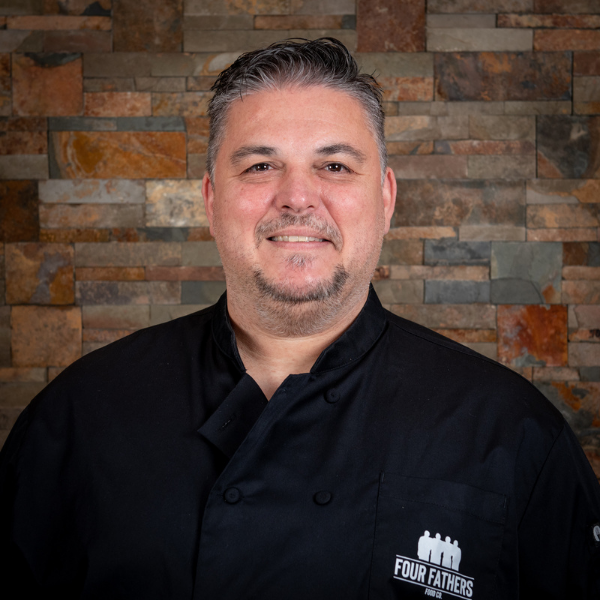 Chef Dino
What does food mean to me? Food defines me and has helped make me the person I have become. My 35 plus years of experience as a chef has given me tremendous knowledge that I pair with my passion and creativity to find flavours and use techniques to elevate all my meals to maximum potential. Food exploration excites me and gives me the ability to create dishes with new flavours. My greatest thrill is watching the exact moment that someone reacts to the flavour of one of my dishes. Whether it is family, a friend or one of my customers that moment gives me the sense of absolute satisfaction.
Growing up in Toronto, Ontario, I have had the privilege to watch the food culture transform the city into a multicultural food mecca. The diversity of available flavours found are infinite and paired with my European background and world travels, allow me to continue to fuel my creativity. This passion is behind each recipe for FOUR FATHERS FOOD CO. sauces.
Beer or Wine:
Sharing a meal around my kitchen table with a great bottle of wine with family and friends is one of the most important things in life.
Most memorable (favourite meal):
My favourite meal is an assorted platter of European cheeses, dry cured salami meats and a traditional Italian porchetta crackle roast served with a crusty Calabrese bread.
Favourite Hot Sauce:
I love our FOUR FATHERS Cayenne hot sauce especially with a charcuterie platter. It helps take each individual bite to the next level.
Chef Dino's Choice
___________________
Shipping is calculated at checkout

CAYENNE HOT SAUCE: AROMATIC, SPICY, SAVOURY

The perfect combination of spiciness and herbs; leaving a warm lingering aftertaste

Kick up your next cheese board, top your next burger or add some extra heat to your favourite caesar recipe.
(Scoville Heat Units: 30,000 – 50,000 SHU)
INGREDIENTS
Cayenne/Red Chili Pepper, Vegetable Oil, Sweet Peppers, Salt, Garlic, Spices, Basil, Citric Acid.