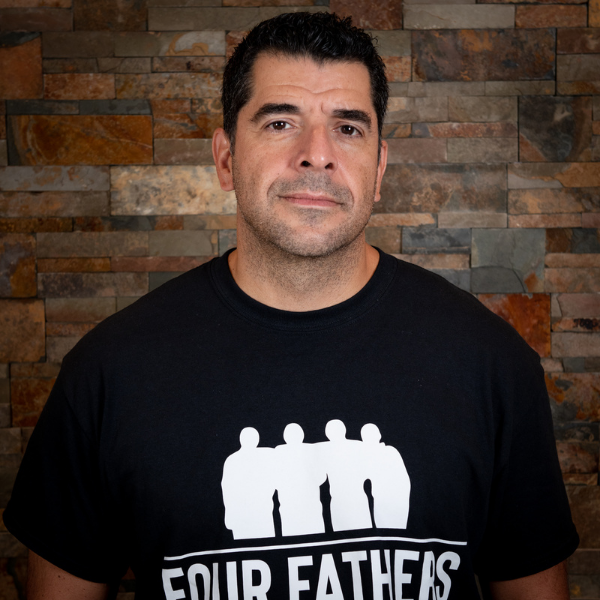 Nelson
I guess falling in love with food was inevitable for me. My dad was a commercial butcher, my uncles owned a produce farm and finally growing up in a Portuguese household meant big family meals-lead by mom and grandmother.
When I left home for school, I learned quickly that creating meals was instinctive for me and I found joy trying new recipes and surprising my roommates. At 21, I had a chance to backpack through Europe which really ignited my love of cooking and the realization how much food can connect you to different cultures.
I pursued a career in sales and marketing instead of food but have been an active home chef for over 20 years and still find joy in cooking for friends and family. The ability to partner with friends now to launch FOUR FATHERS FOOD CO., has allowed me to finally realize my passion in food and I hope families will trust us to help elevate their next dish.
Wine or Beer:
As much as I love a good, full bodied red wine my go to is craft beer preferably local and either a dark lager or stout.
Most memorable Meal:
I know I've stated "this is the best DAMN meal I have ever had" more times than I can remember over the years though if I had to pick one it would definitely be the first time I fully appreciated the impact of super fresh ingredients and local products: grilled sardines with toasted, Portuguese corn bread, boiled baby potatoes drizzled with olive oil and a highball of red wine served in a tiny café in Lagos, Portugal.
Favorite Hot Sauce:
I love the zing and depth of flavor of FOUR FATHERS Habanero hot sauce. I truly use it on everything; though love it best on sunny side-up eggs.
Nelson's Choice
_____________________
Shipping is calculated at checkout

HABANERO HOT SAUCE: INTENSE, PEPPERY, BOLD

A vibrant, coloured sauce with a slightly fruity flavour and intense heat. Not for the faint of heart. 
Kick up your next cheese board, top your next burger or add some extra heat to your favorite Caesar recipe.

(Scoville Heat Units: 100,000 – 350,000 SHU)
INGREDIENTS
Habanero/Scotch Bonnet Peppers, Vinegar, Vegetable Oil, Sweet Peppers, Carrot, Onion, Salt, Spices, Garlic, Lemon Juice, Xanthan Gum